Who We Are
Founded in 1995, the Rio Grande Valley Multibank (RGVMB) is a Community Development Financial Institution (CDFI) certified by the United States Department of Treasury. Our mission is to provide financial products and development services, particularly in the area of affordable housing and consumer lending. All earnings are reinvested into the program for expansion and lending capital.
The Community Loan Center (CLC) was established in 2011 by the RGV MultiBank in order to offer the affordable, risk-free alternative to payday and car title loans. The small dollar loans are low-interest, low-fee, unsecured personal loans. Since October 2011, CLC has loaned $71 million to borrowers across Texas.
Why Borrow From Us?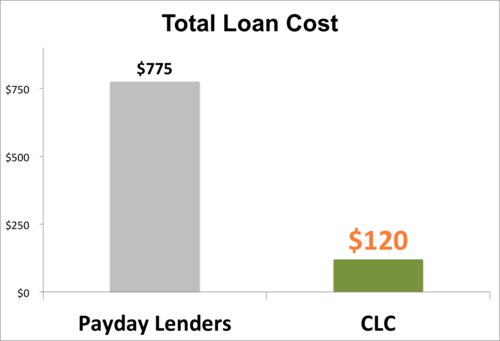 We Save You Hundreds of Dollars
For a $1000 loan due in 1 month, the average payday lender charges $775 in fees. We charge only $120 in fees - and we let you repay the loan in 12 months.
You save over $600 & you have 11 more months to repay the loan.
Want access to your account online?
Do you already have a loan with us? Log in to see your balance, payment amount, set up a payment, get document copies, and more.
For questions about your loan, please call the Community Loan Center at (956)356-6600.
How It Works
Funding
Once obtaining your employment verification and signature, your loan will be deposited into your checking account in 2 business days
Repayment
Loans are automatically repaid through payroll deduction
---
Details
Terms
Loans from $400.00 to $1000.00
Payback period is 12 months
18% Interest; $20 administrative fee
21.83% APR, $1,000.00 Loan, 12 Months
Perks
No credit history or collateral needed
No prepayment penalties
Requirements
Minimum age to apply is 18
Working at a participating employer for a minimum of 3 months
Checking account
Driver license or passport number
Social security number
Your employees are more productive when they are financially stable
Benefits to Employers
Attract And Retain Talented Employees
Loan Payments Are Fully Automated
---
How It Works
When an employee applies for a loan, we ask you to verify their employment. Once approved, we send you the employee's loan repayment schedule so you can set up the automatic payroll deduction.
Becoming a Participating Employer is Simple
Sign our Memorandum of Understanding and then arrange a time for us to train your payroll staff on our simple & fully automated software
If you are an EMPLOYER interested in the Community Loan Center, please contact The Community Loan Center of San Antonio at (210)518-2500, Ext. 26921.
Community Supporters



Financial Supporters
This site has been brought to you by IBC Bank
You may qualify for other credit products. Please visit ibc.com for more information.
130 East Travis, San Antonio, TX 78205, United States (210)518-2500 Ext. 26921